Intro
Samsung Galaxy Buds Plus may raise a few eyebrows for what looks to be a slight incremental improvement, but I'm here to tell you that it's worth every penny. Do not be deterred if you think your new Samsung Galaxy Buds Plus is almost identical to your old Galaxy Buds. Extra-long battery life and improved microphone quality are just two of the many features added to the Galaxy Buds Plus by Samsung.
These headphones are now on sale for a significant discount considering the recent release of the Samsung Galaxy Buds 2.
Who is it made for?
The new Galaxy Buds Plus is an excellent option for anybody with an Android smartphone or tablet
IPX2 water resistance and over 12 hours of gaming on a single charge make it ideal for gamers of all skill levels and interests alike.
Long-distance commuters would also enjoy the long-lasting battery of this earbud
---
Using the Galaxy Buds Plus
If you haven't already, have a look at the Galaxy Buds Plus, which is the same as last year's version except for a few minor tweaks.
All-plastic construction makes the earbuds seem a little cheap, but it's worth noting that they're light, comfy, and, most importantly, inexpensive. The extras that come with the Galaxy Buds Plus are an excellent addition, but not because of any changes to the design of the earbuds themselves. In addition to the pre-installed medium ear tips and wingtips, users get an additional three pairs in various sizes. Everyone benefits from the improved audio quality because of this.
The Samsung Galaxy Buds Plus has a new dual-driver technology that produces more precise sounds compared to the original.
The dual-driver system means each earbud has its woofer and tweeter. AKG calibrated the frequency response for the price to provide surprisingly clear sounds.
Despite its sleek appearance, it didn't fall out of my hands when opening the charging case. Rubberized strips with "L R" etched onto them disclose which earbuds are which when the lid is lifted. Because it seemed like a battery-sharing feature, I assumed it was simply a fancy label, but it turns out that's not the case.
Read also: Google Pixel Bud A-Series
App for the Samsung Galaxy Buds Plus
One neat feature of the Samsung Galaxy Buds Plus is that it offers Spotify connectivity, something we've also seen from Skullcandy in more recent times. Download the Galaxy Wearable app, a great companion app for true wireless headphones, to instantly access the popular streaming service from your earphones and play music. It's as simple as resetting the earphones' tapping gesture so that you get music recommendations. Inconveniently, the Spotify feature is only accessible on Android smartphones and not on iOS.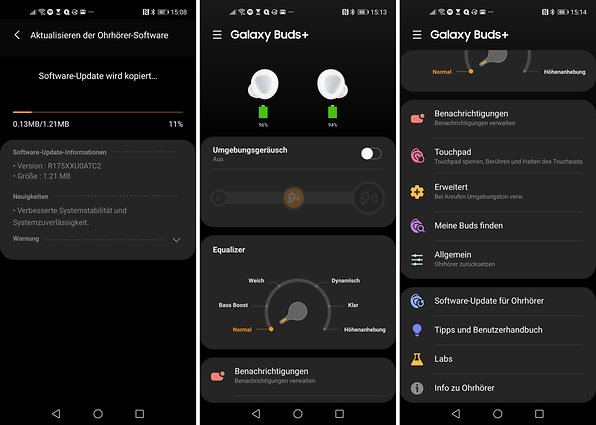 The Galaxy Wearable app capabilities include ambient sound changes, finding my earphones, and more. There are also software upgrades and EQ settings available. If you're a beta tester who enjoys gaming, you may want to give Game Mode a try. Samsung's Galaxy Buds Plus app is now available on the Apple Software Store. However, the app does offer support for the original Galaxy Buds, which is absurd. Furthermore, all Android app features are available, except for Spotify integration, which is only available in the app version 1.1.2.001.
Check out our review of the OnePlus Buds Pro
How do you connect the earphones?
As with the adaptive aptX codec, the scalable codec of Samsung continually balances the quality of the connection and the sound emitted.
When you first try to link the Plus with an Android smartphone running version 7.1.1 or later, an alert will appear. Otherwise, you may link the earphones by taking them out of the case, navigating to your phone's Bluetooth menu, and choosing "Galaxy Buds+."
The earbuds include Bluetooth 5.0 firmware with a wireless range of 10 meters. I had hoped that the 2nd Gen Galaxy Buds would have aptX support, but they only support SBC, AAC, and the scaled Samsung codec. Even though Qualcomm Stereo Plus is not supported, the advertised connection strength is stable. However, latency shouldn't be a problem for those using iPhones or Samsung smartphones.
Does the Galaxy Bud Plus have multipoint functionality?
For some reason, multipoint functionality for Bluetooth 5.0 devices isn't supported by Samsung's Galaxy Buds Plus. However, Samsung quietly erased any mention of this feature from their official website for reasons best known to them. Perhaps this will return in the following software version.
Read also: Review of the Turtle Beach Recon 70
Even if you have a lot of devices, the Buds Plus can remember them all. When connected to my PC, I don't have to detach my smartphone's headphones manually. As an alternative, I can choose the pre-paired Samsung Galaxy Buds Plus showing on my laptop's Bluetooth menu, and it will instantly detach from my S10e. There is still some work involved, but it isn't too demanding.
Does the Galaxy Bud Plus have a considerably long battery life?
The Samsung Galaxy Buds Plus has a battery life of approximately 12 hours, ideal for a genuinely wireless earphone. However, having the right earbud run out a little earlier than the left is commonplace.
After the batteries run out, placing the buds into the case for an hour of listening is as easy as throwing them in your pocket for three minutes. Just one more charge cycle isn't fantastic, but it's the price we pay for a bit of casing like this. The charging case is Qi-certified aside from using Wireless PowerShare on a Samsung Galaxy phone.
Noise Attenuation of the Samsung Buds Plus
As a result of Samsung's generous supply of replacement ears and wingtips, the isolation is excellent. Switching out the default ear tips for a small or big size can dramatically enhance clarity and audio quality.
Samsung's Galaxy Bud Plus has a great sound, but how good is it?
The Samsung Galaxy Buds Plus are perfect for those who like listening to popular kinds of music, such as pop, hip-hop, and so on, since they enhance the impact of every kick drum by boosting bass frequencies. Songs with many highs and mids may sound muddy because of the lack of amplification in those frequencies. That's not the fault of the audio file, but instead on how bass sounds are destined to obscure quieter, high-pitched ones.
A bassline that's not overpowering but might need a little more focus to satisfy a broader range of listeners' tastes is a fantastic fit for the Galaxy Buds Plus' frequency response.
Using this earbud for phone calls.
There are two external and one internal microphone in the Galaxy Buds Plus' three-microphone array, which work together to improve speech transmission. Like the ones in Apple's AirPods and AirPods Pro, the two external microphones pick up your speech while simultaneously canceling out background noise.
What's the difference between the Bud Plus and the Galaxy Bud 2?
On paper, the Galaxy Buds Plus is superior to the Galaxy Buds 2, except for battery life. With the Galaxy Buds 2, you get better active noise cancellation and a more polished charging case than the flagship Buds Pro.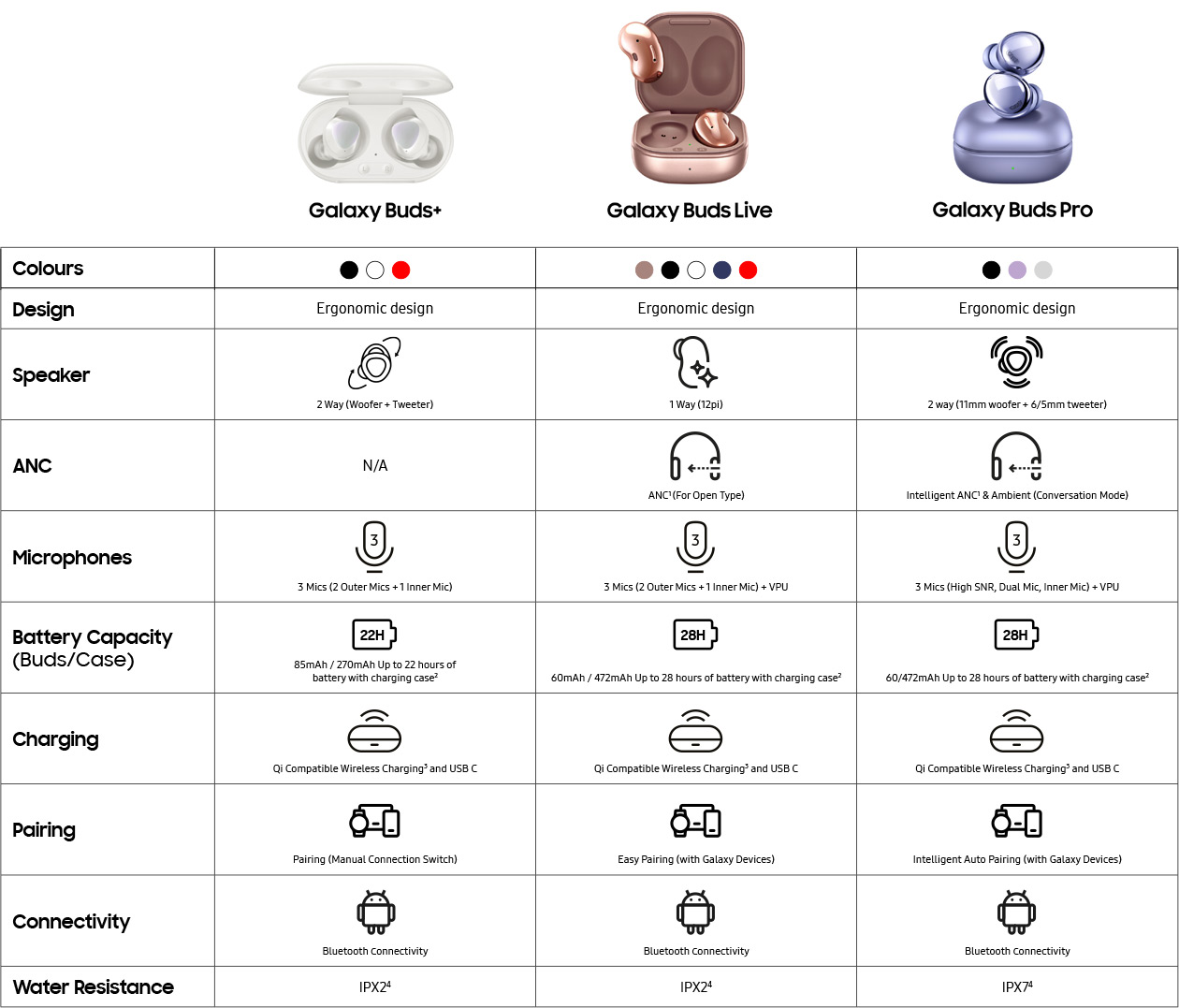 Although some people may find the Galaxy Buds 2 uncomfortable, the earphones should remain in place as you move about your daily routine. Both earbuds have an IPX2 certification, and both charging cases are USB-C, wireless, and rapid charging capable.
Low-frequency sounds are reduced to a fraction of their original volume by noise canceling.
For less than $200, the Galaxy Buds Plus could be yours. If you're on a tight budget and don't require noise cancellation, they're still one of the finest earbud options under $200. Optionally, for less than $150, you can get a good ANC like the Galaxy Buds 2 or the 2nd Gen Amazon Echo Bud.
Durability
A few years ago, Samsung experimented with a bean-shaped ANC truly wireless earphone called the Galaxy Buds, and they learned a lot from that experience. While the original Galaxy Buds had open-fit silicone ear tips, the new Galaxy Buds Pro has closed-fit silicone ear tips. To achieve efficient noise cancellation, your ear canals and the outside world must be separated by a physical barrier.
New color options have been added to Samsung's Pro version and improvements to the microphone quality. Listeners looking for an all-in-one headset that doesn't cost an arm and a leg should check out the Samsung Galaxy Buds Pro. The truly wireless earbuds from Samsung, the Galaxy Buds Live, have an open design that may be more comfortable if you like that kind of fit.
The speculated Samsung Galaxy Buds 2 might be worth the wait if you're a patient person. Stay tuned for more information on these earbuds as it becomes available.
Purchasing the Samsung Galaxy Bud Plus
Those who can't live without the new Samsung Galaxy Buds Plus, be advised that they are a terrific option to consider. Indeed, this doesn't change the market for truly wireless earbuds, but it does keep many of the characteristics of the Galaxy Buds while also improving battery life.
Alternative Products to Consider
A decent alternative to the Samsung Galaxy Buds Plus is the Google Pixel Buds A-Series. Lightweight and comfortable, with IPX4 protection, the A-Series is an excellent choice for Android users. Our immediate impression was that the headphones had significant volume issues, but this can be fixed by updating the firmware or accessing your phone's developer settings.
If you own an iPhone, you may have been considering the new Apple 3rd generation AirPods or the AirPods Pro. The 3rd generation AirPods are a tough sell, particularly considering the Pro's superior sound quality. There's no contest: Samsung Galaxy Buds Plus has excellent sound quality, a better-fitting, more comfortable design, and longer battery life than the basic 3rd Gen AirPods. With that being said, for those who have more disposable income, I recommend the AirPods Pro.
The Amazon Echo Buds (2nd Gen) are yet another excellent alternative, featuring excellent noise cancellation, an IPX4 construction, and a slew of helpful software functions like ear tip fit-test. Using the Alexa app, the ideal ear tips are always picked for a secure, comfortable fit and high-quality sound. The case is small enough to fit in a denim pocket and is straightforward.