Intro
Since the BlackShark V2 and Kaira Wireless headsets, Razer has been releasing audio products that are less flashy but more functional. The company has returned with a new low-cost, and highly interoperable product the Razer Barracuda X.  It's one of the most innovative wireless gaming headset with a low profile that works almost anywhere and is considerably lighter than the average gaming headset.
Who will likely fancy the Razer Barracuda X?
You want something functional to use with a game console, PC, or smartphone.
You want a light enough microphone to wear all day in Zoom call for at-home workers.
Using the Razer Barracuda X Headphone
At a closer look of this headset, you'll notice right away how light it is in comparison to most other headsets in the market. It's lighter than even the Logitech G733, and weighing just 250g it is also lighter than the Corsair's Virtuoso Wireless XT. Thus, those who seek something they can wear all day may find the Barracuda X to be an excellent choice.
This headset was designed to be worn all day, every day. Because they are made entirely of plastic, Razer Barracuda X headphones have ear cushions that looks and feels exactly like those of previous models. The earplugs keep your ears cool and comfortable for a long time. The headband provides the perfect grip, so you can be sure that it will not irritate your scalp.
Because it's marketed as a cross-platform gaming headset, users will quickly find that it doesn't require a dedicated app as other gaming headset do. In addition to adjusting volume, muting the microphone, and powering the headset on and off, you can use the controls form the ear cups to switch on and off the headset. It's easy to locate the controls since they're visible on the left headset with a distinctive profile for each control.
Battery Life of the Razer Barracuda X
On the detailed product page, the company claims that the Barracuda X provides up to 20 hours of battery life. The 20 hours provided is from a single charge, but we discovered that it performs much better than that. It lasted for 24 hours and 45 minutes at a constant volume level of 75 dB—more than industrial average standard. Charging through USB-C is shown by the LED lighting system that flashes green when it is full.
See also the battery life of 2nd Generation Turtle beach stealth 600
Fast charging isn't possible with the Razer Barracuda X. If you're busy and don't want to stop what you're doing to recharge, you can always use the 3.5mm jack.
Connecting the Razer Barracuda X
This gaming headset can be connected wired and wirelessly with the help of a dedicated USB-C dongle. Also included is a USB-A adaptor for use with older devices that don't provide support for USB-C connections. The versatile USB-C dongle can be used with a wide variety of platforms, and game consoles, and even USB-C-charged smartphones. Furthermore, there is also a USB-A adapter included in the box if you don't fancy using the USB-C dongle.
Using the Razer Barracuda X to play games
Gaming on any platform is possible with the innovative features of this headset. If you're a fan of long gaming sessions, this headset is ideal for you. It has a long battery life, a lightweight design, and comfy earcups. The dynamic mix of battle sounds, speech, and updated funkier music sounds are fantastic on the Razer Barracuda X in many action game genre.
Check out how it feels to use the Turtle Beach Recon 70 for games
To use virtual surround sound, this headset depends on the platform you're playing on, but we found it doesn't have compatibility issues with any of the main ones. PlayStation 5's 3D audio function sounds excellent on this headset. It does an excellent job of simulating the sense of Spider-Man Miles Morales swinging form one building to another in the busy metropolis of New York. In Sea of Thieves on PC, the Barracuda X performs well with the spatial audio feature of Window's PC that has one of the less aggressive virtual surround sound standards.
The Sound System of the Gaming Headset
The Barracuda X follows our goal curve for gaming headset audio accuracy quite well, except for a few outliers. Low and high frequencies are reduced in the 20Hz and 6KHz regions of the frequency spectrum. On the other hand, the middle bass are well highlighted.
Many songs will sound great with this headset because of its consistent audio output, although you may notice slight variations of the bass's trademark vocals. A lot of the noises you'd ordinarily hear from a subwoofer are in the 20Hz to 20kHz range, but headphones often have a hard time producing these sounds.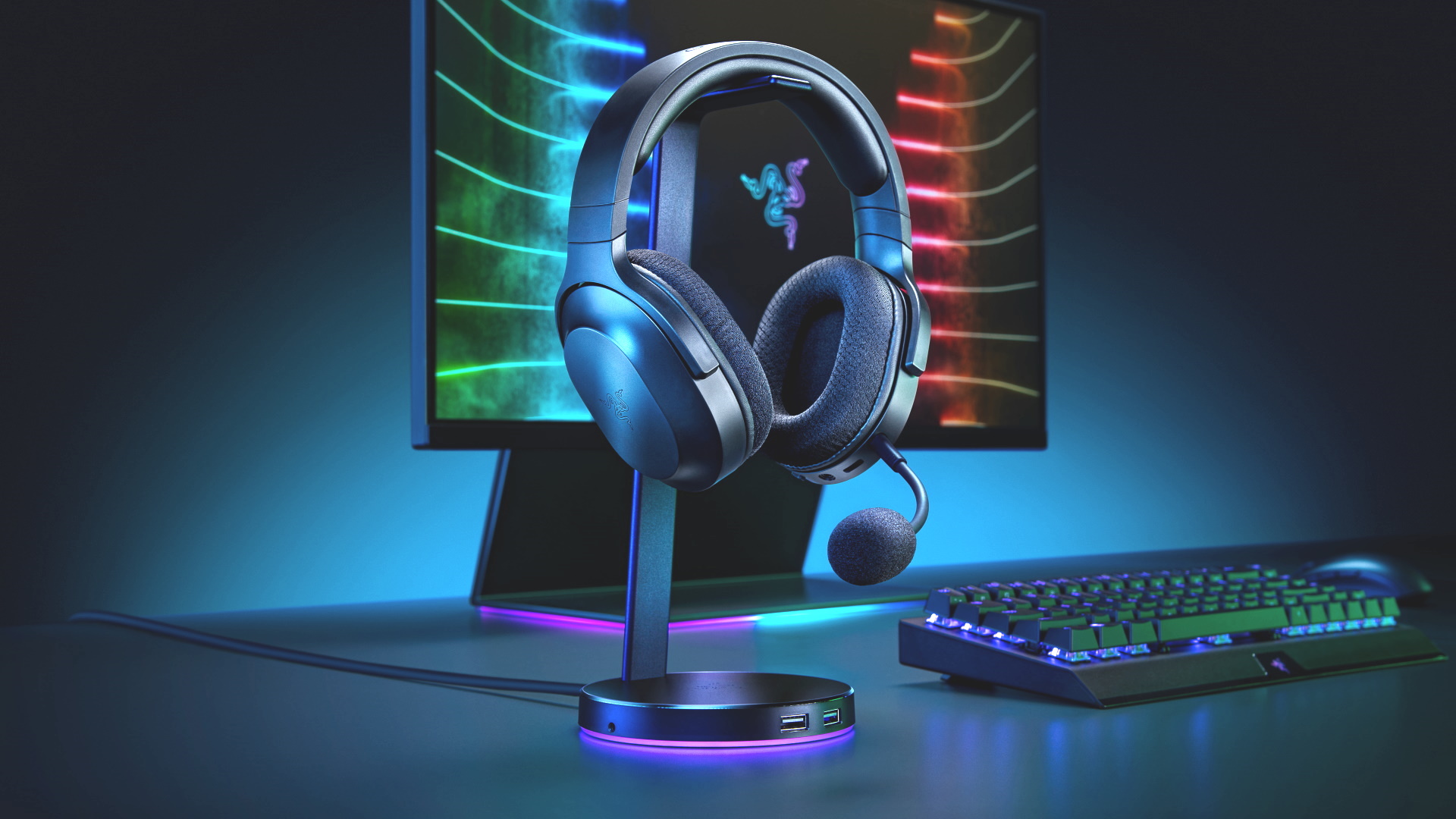 Despite the trumpets and guitar strumming, the bass and treble notes in some music may not be clear because of the de-emphasis of bass.
Having this kind of frequency response can dramatically improve your game time. It's possible that you won't hear as much of the rumbling of a grenade if it explodes close to you, but many people haven't had much problem with this. When it comes to audio in video games, you'll rarely hear anything that isn't louder than usual. Irrespective of any variations in low-end sensitivity, an explosion will always be the most audible sound at a given instant.
See also: Razer Black Shark V2 Pro
The noise cancellation system of the Barracuda X
Razer's Barracuda X gaming headset has an average level of isolation. Attenuating high-frequency sounds is sufficient to reduce minor irritations such as someone chatting in other rooms or the churning of a refrigerator. While it can be used with your phones, the more regimented design makes it a cool headset that can be used outdoors. Nonetheless, it may not hold up well in noisy café environments.
Using the Microphone
For a gaming headset, the Razer Barracuda X microphone produces decent audio. There's a slight lack of focus on the low end, but even those with deep voices should be able to hear it rather well. My friends often tell me that I need to raise my volume on Discord calls since my microphone is too quiet. Furthermore, the default volume has difficulty keeping up with game noises, but it's not that significant.
Should you buy this gaming headset?
It's hard to find anything better for the price of a Razer Barracuda X, which is a cheap multi-platform wireless gaming headset.
In terms of gaming headphones, the Razer Barracudas X aren't great. Isolation and audio output are both a touch-off in certain situations, considering the more lifestyle-oriented nature of the product. However, there aren't many gaming headsets at the low price tag that perform so well on so many platforms.
If you're a fan of Razer's Barracuda, you won't be disappointed. This headset is an attractive option for those who often switch between platforms throughout the day. It's also subtle enough to be a serious candidate for someone who spends a lot of time in Zoom conversations.
Other Alternatives
Consider the SteelSeries Arctis 1 Wireless instead of spending an extra $100.It has almost comparable capabilities to the Barracuda X, but it's less expensive. A similar USB-C dongle and battery life are included. However, SteelSeries' Engine app is also supported, allowing you to build unique EQ settings and verify the precise battery life.
To get a better sound, the Turtle Beach Stealth 600 Gen 2 includes one of the most precise microphones you can get for less than $100. This doesn't work with mobile phones or an undocked Nintendo Switch because of the USB-A connector, which also doesn't allow 3.5mm headphones.
The wired choices are a better choice if you're truly set on staying inside this pricing range but still want extra functionality. On PC, the Razer BlackShark V2 has a lot more functionality and greater isolation for the same price. As a result of the little price difference, the Logitech G Pro X offers additional capabilities, interchangeable ear pads and connections, an extensive microphone software suite, and a lot more.