Intro
The Pixel Buds A-Series from Google is a hassle-free earphone that appeals to Andriod users. Google's Android-friendly earbuds include a slew of features like touch controls and a secure fit that should improve productivity and ease of use. You may want to consider other alternatives despite the positives if it still doesn't suit you.
Who needs the Google Pixel Bud A-Series?
Users who want an easy integration of their Android devices and earbuds
Fans of the Google Pixel will appreciate the sleek design and smooth Android software integration at a reasonable price point
Read also: The OnePlus Buds Pro
Using the Google Pixel Buds A-Series
Everything about the Google Pixel Buds A-Series is bright and cheery, from the charging case that looks like a Tamagotchi to the flimsy earbuds with wings resembling bug antennas. When working with a budget product, this aesthetic is probably pretty nice. However, the box's color is not a reference to transparency because it has a G etched into the housing where the touch controls are located, making them transparent. Try out the dark olive color alternative if this doesn't suit you.
In terms of physical features, there are rubber accents at the exterior of the Pixel Buds A-Series charging case and on the earphones, which are made of plastic. The lid is slightly flimsy, which doesn't feel like it could last long. Even though the case is light, I wouldn't recommend dropping it from great heights since it seems like Google did you a favor by removing unnecessary junk material. To my surprise, the charging case contains a USB-C connection and a magnet. Meaning the wire won't be dragged out of place when charging, and you can attach it to other devices or solid support.
The box and accompanying instructions give relatively little information, which is unexpected for Google. It took me a while to figure out how to connect the earphones. However, these are some of the coziest earphones I've ever worn after they've been attached. There are no pressure points in the Pixel Bud a-Series earphones, so lengthy listening sessions don't leave you feeling dizzy or nauseous. There are three sizes of silicone ear tips to choose from, providing you with options for the best fit.
Read our review of the Beyedynamic MMX 150
With an IPX4 certification, you can ensure that your A-Series won't be ruined by sweaty exercise. Even though the buds aren't water-resistant or dust-resistant, this grade will protect you from splashes. The Google Pixel Buds A-Series is a genuinely wireless headphone at an affordable price but does a little bit of everything.
The Adaptive Noise Cancellation Feature
Auditory masking can help compensate for sound loss using the Pixel Buds app's Adaptive Sound. These earbuds increase the volume of your music when the surrounding noise increases and decreases the level as the surrounding noise decreases. In addition, the earbuds don't have a volume control that can be tapped to turn it up or down from the stem.
Active noise cancellation (ANC) and strong isolation are standard solutions to surrounding noises. ANC reduces the amount of noise competing with your ears by adjusting the volume accordingly. When compared to ambient noise, Adaptive Sound is noticeably louder.
In the case of phone calls, Adaptive Sound is a good choice. As we all know, making a phone call isn't always a pleasant experience for many headphones, so an algorithm that can automatically increase the volume when a truck drives by is a sensible move.
As attractive as it is, the adaptive sound is still a bad fit for music. Musical dynamics are destroyed since ANC repeatedly adjusts the volume up and down. A song's chorus can seem quite offbeat when it comes on as you enter or exit a noisy place. A considerable delay in the activation of adaptive sound also makes the volume decline noticeable. Hopefully, improvements will be made in the future.
Downloading the Pixel Bud Application
The Pixel Buds app is one of the most excellent features of the A-Series earbuds when you link them with an Android device. It is a prominent selling feature of the Pixel Buds A-Series that can be used with Android devices. It's cool to be able to monitor your earbuds, turn on Bass Boost, turn on in-ear detection, and become familiar with the touch controls using the App. If you use services such as Find device, which uses GPS tracking to follow your earbuds, keep in mind that you are giving Google permission to gather data.
Read also: Samsung Galaxy Buds Plus
With the dedicated App, it's easy to use the touch controls, but you can't personalize them. Using voice commands or pushing and holding on the G logo on the earphones activates Google Assistant. As with the more expensive Pixel Buds that utilize the same software, your results may differ if you use an iPhone.
Connecting the Google Pixel Bud A-series
The earbuds' strong connection and seamless integration with your Android smartphone make it possible for you to work or play from almost any location.
Open the case and click the back button to begin the pairing process. When the pairing is complete, the case's light will alternately flash yellow and white. Please select it from the Bluetooth menu on your device, and you're done. Bluetooth 5.0 makes pairing and reconnecting a breeze. It easily connects to my Android mobile and remains stable with consecutive usage.
You have to choose between two Bluetooth codecs: AAC or SBC, either of which is outstanding. Most consumers won't notice a change in codec performance on the A-Series, especially if they're streaming lossy music.
Battery Life of Google Pixel Bud A-Series
Google says that you get about 5 hours of music playing and 2 hours and 30 minutes of conversation time with this device. After a 90-minute phone conversation, the earbuds will be around half-charged. 4 hours 40 minutes of continuous music listening at 75dB(SPL) delivers an average battery life for true wireless headphones, according to our battery test.
About 15 minutes of fast charging time will provide approximately 180 minutes of music play or 90 minutes of speaking time. Again, it uses USB-C to charge, but it doesn't have wireless charging capabilities.
Noise-cancelling of the Google Pixel Bud A-Series
As can be seen, the A-Series doesn't emphasize isolation, but then, the Pixel series never did either. The pressure vents seem to jeopardize the seal more than other earbuds using the same technology, like the Samsung Galaxy Buds Pro or Sony WF-1000XM4. Isolation isn't unexpected because the earphones never claimed to provide it. Instead of isolating you from your surroundings, Google's A-Series phones keep you aware of surrounding noises.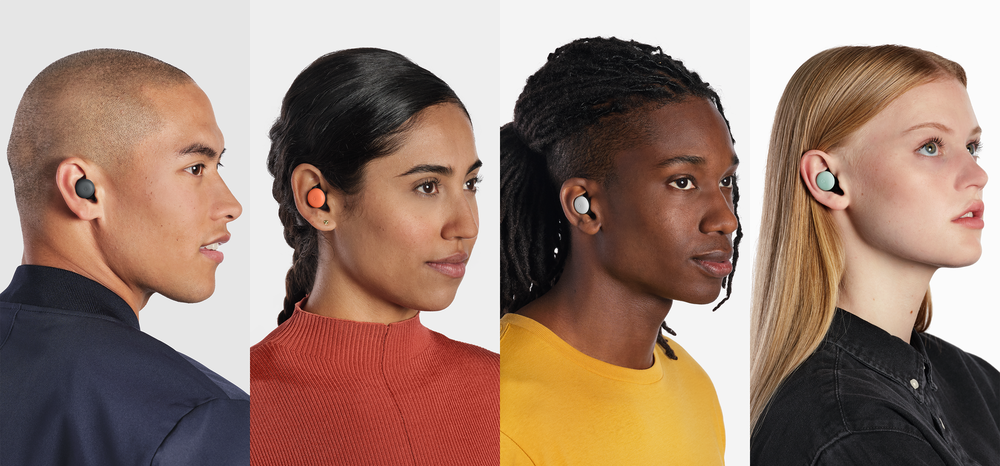 Google Pixel Bud A-Series Sound Rating
You may enjoy the excellent sound from the Google Pixel Bud A-Series with firmware version 233 or later. Before firmware version 233, the sound output of the A-Series was noticeably quieter.
The A-Series earbuds provide two different frequency response choices with the Bass Boost switched on or off. There are no more EQ modifications. For whatever reason, the treble frequencies over 3kHz don't sound quite right yet.
Zoom calls can be enhanced if you wore the Google Pixel Buds A-Series while doing so. You want to hear people's voices, but without the sibilance. De-emphasizing the surrounding sounds of people jostling at their desks during meetings is one way to reduce the bass.
Turning on Bass Boost gives your music an extra kick. Although it adds a bit more, this EQ is still considerably more suited to music than making calls. Thanks to its relatively balanced mids, the A-Series doesn't sound too magnified or overblown with additional bass.
The A-Series, Free by SAULT, sounds distorted due to the default EQ setting. There is a lack of depth in the sound because the bass is not audible. My ears can hear a more prominent bass line with bass boost on and the kick drum during the chorus.
How to Quickly Fix the Problem with the Volume
Low volume issues with the Google Pixel Buds A-Series aren't unique to our tests other Android users have reported the same problem.
Google has published a firmware upgrade (version 233) to address this problem. If your phone does not automatically launch an update, you may force one by following the outlined steps below:
Put the buds in the case.
Next, open the Pixel Buds app on your smartphone.
Click on Firmware update under More options.
Select the option to get automatic updates by pressing the "Update Now" button.
If the Google firmware update is not available in your location yet, there is another method for increasing the volume. Your phone's developer settings must be accessed to fix this. Even while it's a more complicated procedure than most people are looking for, it's still a straightforward solution to the problem.
The Mic System of the Google Pixel Bud A-Series
One of the two microphones on each earphone is quite good at picking up voices. Despite the reduction in overall quality, the voices seem authentic. Also, the earbuds do a decent job of reducing the surrounding noise volume. As a result, it may misinterpret your speech as background noise.
Who Should buy the Goggle Pixel Bud A-Series
The A-Series has many faults as the previous two Pixel Buds versions, and we wouldn't recommend it to anybody. This isn't to say that you won't enjoy these earbuds; you may just prefer other models. However, these earbuds do have certain benefits over AirPods, particularly when you consider that they isolate far better than the Apple earphones. Whether or not these earphones are worth the money depends on what you value in a pair of earbuds.
Consider also the Bose QuietComfort Earbuds
Google Assistant and the ability to locate misplaced earphones are included with this headset. Wearing the Google Pixel Buds A-Series for extended periods is simple because of its lightweight design and plush cushioning. It would help if you also kept in mind some of the issues we encountered and potential performance sacrifices before making a purchase.
Consider these Alternatives
If the Google Pixel Buds A-Series appeals to you because of its seamless integration with Android devices and Google Assistant, then also consider the Samsung Galaxy Buds Plus. AKG-tuned frequency response and several EQ settings are included in this model and cost about the same. In contrast to the A-Series, the Galaxy Buds Plus didn't have any loudness concerns. Productivity is increased while using a high-quality microphone. You'll need the Samsung Galaxy Buds 2 or the Pro version to enjoy an ANC.
Those in need of a headset that is inexpensive and long-lasting should look at the Jabra Elite 3. It has a waterproof grade of IP55, Bluetooth 5.2, and aptX/SBC compatibility. As disappointing as the absence of AAC compatibility is for iPhone users, this is an excellent choice for Android smartphone users looking for an entry-level pair of earbuds.
When it comes to earbuds, you can't beat the OnePlus Buds Pro if you're prepared to spend a little extra. A mobile app, excellent sound quality, and decent battery life are all included in the OnePlus Buds Pro.