Intro
If you'd forgotten, Apple paid a lot of money to acquire Beats a few years ago. The Apple business hasn't forgotten about the Beats Brand even though it focuses on AirPods. The relatively nice-looking Beats Flex headphones are an affordable alternative to the BeatsX. The critical takeaway is that, unlike other Apple accessories, Apple Beats Flex is compatible with Android devices.
Who is the Apple Beats Flex for?
Those who are not ready to spend a lot of money to buy an Airpod Pro. At this price, the Beats Flex is a good buy since they have many of the same capabilities as the AirPods, but they don't have the truly wireless design that they would.
Those looking for a gift for a loved one. Four different color options are available, making it an ideal stocking stuffer for the holidays or birthdays.
Users of iOS and Android devices. However, you'll get the most bang for your buck if you use them with an iPhone or iPad.
The feel of using the Beats Flex Device
The Beats Flex is ideal for daily use because it weighs just 18.6 grams and is soft-touch plastic. For those who want to wear the neckband all day, the weight of the earbuds is quite negligible. The long cords mean that users will have to deal with large loops at the points where the earphones and neckband are connected. Fortunately, the cable's anti-tangle design works excellently well.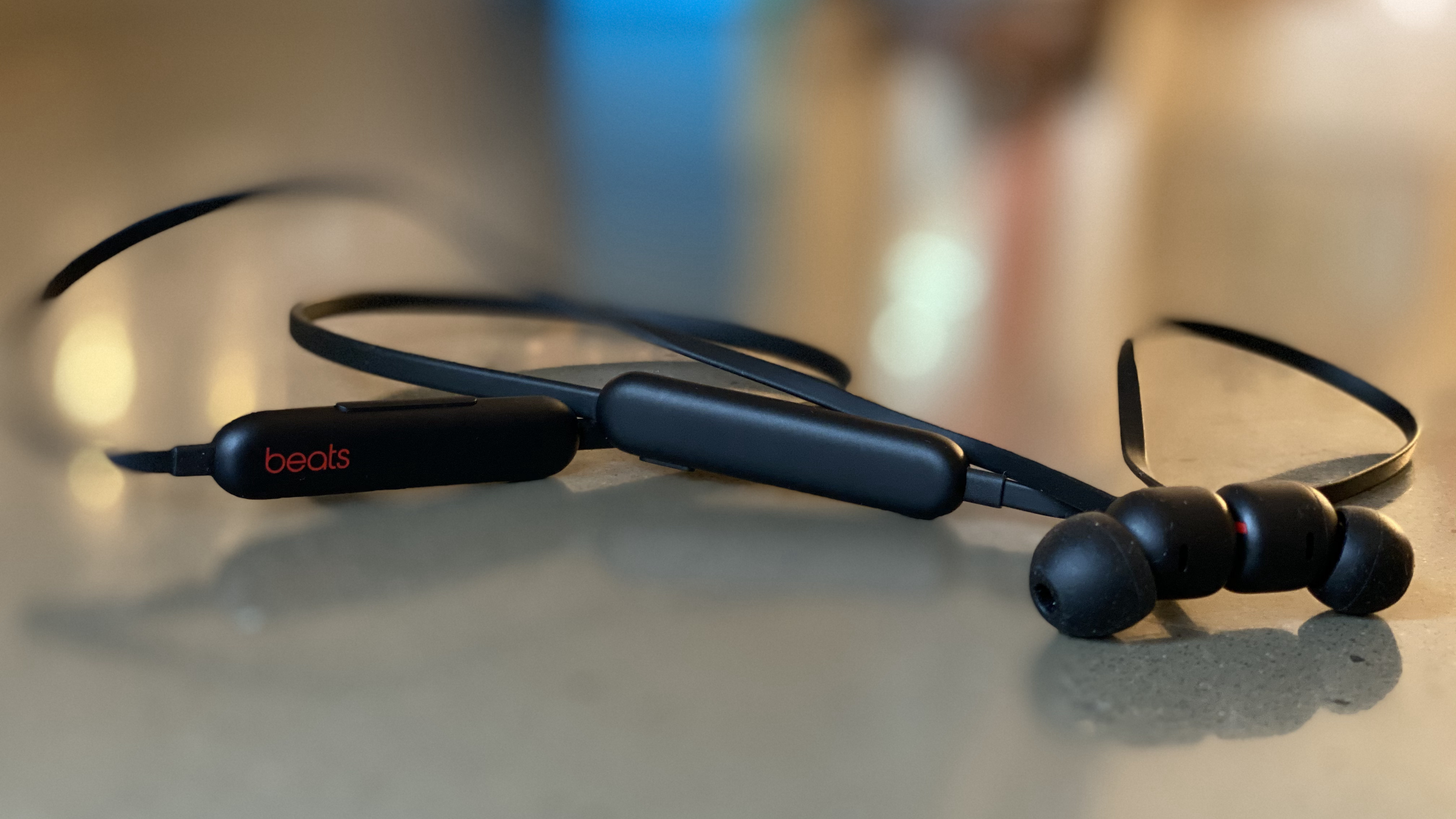 Beats Flex earphones can be snapped together magnetically while you're not using them, making them easier to store. The magnetic earbuds aren't utilized for organizing alone: they can also stop your audio when connected. Playback of the music restarts as soon as they are no longer in proximity to one another. The headset automatically answers the phone when you get an incoming call and detaches the earbuds. They are not as convenient as AirPods' built-in proximity sensors but still helpful all the same.
Read our in-depth detailing of the Turtle Beach Recon 70
You won't have any troubles with playing or connection stability, no matter what operating system you use. You'll need to go into your phone's Bluetooth settings to swap between devices. However, before you can connect to another device, you must first disconnect from the one you're currently using. Apple users shouldn't have a problem with this because of the W1 chip.
Even though the earphones fit in properly, they aren't exceptional. Even though they don't fall out, they constantly feel they will fall off. To fix this, Beats provides a couple of ear tips to help users.
My ears respond best to the double-flanged tips, but individual results may differ due to personal preferences. Unless you want to use this in the gym, the fit should be OK. The Beats Flex has no formal IP rating to prevent water damage, so only use them for regular daily activities.
Connection Strength of Beats Flex?
The Beats Flex has an excellent connection strength, particularly when compared to genuine wireless headphones. It is also known to support SBC and AAC Bluetooth codecs while rocking Bluetooth 5.0. Our testing suggests that AAC has some troubles with Android. However, this is dependent on the hardware you're using. While aptX support is disappointing, AAC is more than enough at this price point.
Paring the Apple Beats Flex.
As soon as the Beats Flex is turned on for the first time, it will immediately begin the process of pairing. What happens next is intriguing since it depends on whether you're using an iOS or Android smartphone. The pairing procedure is straightforward if you're using anything else. Wait for the headset to enter pairing mode by holding down the power button. Find the Beats Flex icon in the Bluetooth settings of your source device.
iOS Pairing
Bluetooth connecting procedure is the same for iOS users. A white card will appear on your iPhone or iPad as soon as you turn on the headphones. All you need to do is press the "Connect" button, and the headset will establish a connection with your smartphone and all other iCloud-enabled devices.
You can listen to the same track simultaneously with someone else using the W1 chip, provided they have a compatible set of Apple headphones.
Android Pairing
Like on iOS, if you initially download the Beats app, you'll see a similar notification on Android.
If you're using Android, things can be a bit more complicated. To use the simple connect card on Android phones, you must first download the Beats app from the Google Play Store. You'll be guided through a similar pairing process to that of iOS after you've downloaded the app and have granted it the necessary permissions. A little card will appear when you turn on the Flex, allowing you to connect the Beats Flex.
Support for Bluetooth multipoint
Due to the lack of an actual Bluetooth multipoint on the Beats Flex, it is not possible to pair the headphones with two devices at once. However, the W1 chip from Apple is inside. If all your Apple devices are linked to the same iCloud account, you can effortlessly switch between them, just as you have on Airpods and BeatsX.
Read also our review of Apple Airpods Pro
The battery life of the Apple Beats Flex
Our routine 75dB SPL battery test gave us a bit less than the 12-hour battery life Apple promised for the Beats Flex. It lasted for about 10 hours before it ran out of gas. However, you can always count on the rapid charge function, which provides an additional 1.5 hours of battery life after only 10 minutes of charging. You can use the same cable to charge them as you would your Android phone or laptop thanks to USB-C, thanks to USB-C.
Apple Beats Flex Microphone Quality
When you put the magnetic earphones together, your audio will automatically halt.
The microphone does not amplify your voice. You can use the built-in microphone for short conversations and voice messages, but if you plan on holding a long conference call, you'll want to invest in a USB microphone. Make use of your smartphone or invest in a specialized headset if you're going to make long-distance calls.
Noise Cancellation System
These earphones can't completely block the rumbling of a railway vehicle, but they can filter out certain other noises, such as neighboring conversations.
If you've ever used a BeatsX, you should know what to anticipate. Because these earbuds don't separate you from the outside world very effectively, the emphasis is on the bass response to hear low sounds. Despite their effectiveness in blocking out high-frequency noises (2 kHz and higher), these headphones cannot filter out low-frequency sounds. It's easier to hear lower notes because of the greater loudness at the low end.
The sound system and quality
We noticed a considerable bass response increase while listening to Madeon's "No Fear No More." I can hear the bassline alone in my room well, without distractions. The bass notes are turned to sound twice as loud and help users keep track of the main rhythm.
In addition, there is a great deal of focus in the upper-mids that boosts the volume of voices in music and podcasts. Julia by Retro Stefson's voice may be heard well in any setting. The same holds since this enhanced frequency range aids with voice comprehension if you're listening to podcasts.
Why should you buy the Apple Beats Flex?
The Beats Flex is an excellent choice for listening to music and podcasts casually. Considering the strong connection, long battery life, USB-C charging, and low price, this is an excellent product.
Even though it has a few flaws, such as a poor microphone system, incorrect frequency response, and low perspiration resistance, all of these can be forgiven at the low price range. You can get the Beats Flex for a fraction of the cost of the BeatsX, making them a great gift item or everyday earphones.
Beats Studio Buds are a mediocre set of headphones that operate with Android devices as they do with Apple devices. It is more expensive than the Beats Flex but cheaper than the Beats Powerbeats Pro due to its small shape. The Beats Studio Buds are a better option for those lured by the AirPods Pro's noise cancellation but want to show off their style a little more.
If you're an active listener, you may want to consider the Beats Fit Pro. THIS PAIR OF NOISE-CANCELING EARPHONES INCLUDES an H1 chipset and a 6-hour battery life. Apple spatial audio with head tracking, an IPX4 design, and a secure, comfortable fit are just some of the high-end features you'll enjoy.
Comparable Alternative to the Apple Beats Flex
There is a more expensive option, the 1MORE Dual Driver ANC Pro, for those who can afford it.
The headphones aren't exactly lovely, but they are sleek and don't draw too much attention, so I like wearing them.
The 1More Dual Driver ANC Pro costs more than the Beats Flex, but it has a bevy of high-end capabilities. Active noise cancellation is acceptable for the price, and it's water-resistant to IPX5. These neck-buds support Sony's LDAC codec, allowing Android users to enjoy better audio streaming.