Intro
In 2014, Apple paid a staggering $3.2 billion to acquire Beats by Dre, a famous brand of consumer audio products. Despite their flaws, the original AirPods were a big success, and the AirPods Pro is among the fine genuinely wireless earbuds you can buy today. When Apple revealed its long-awaited over-ears AirPods Max, we were both delighted and apprehensive. The big question is: what improvement did the Airpod Max offer?
When it comes to headphones, is this simply another pricey Apple product? Let's dive into this in-depth review to find out.
Who needs the Apple Airpods Max?
Fans within the Apple ecosystem- If you have the latest iPhone, Mac, or iPad, you'll like the Airpod Max.
Those who already have the Airpod Pro require an over-the-ear alternative. The AirPods Max features many of the same drawbacks as the AirPods Pro, so if it doesn't affect you, then you'll probably like the Airpod Max.
Anyone who is looking for a good noise cancellation headset. However, Sony WH-1000XM4 and Bose Noise Cancelling Headphones 700 have superior active noise cancellation than AirPods Max.
How does it feel to use the Apple Airpod Max (Editor's Review)?
I've had conflicting feelings about using the AirPods Max as my everyday headphone. While the AirPods Max is excellent in some cases, using them in a manner Apple doesn't recommend might cause issues.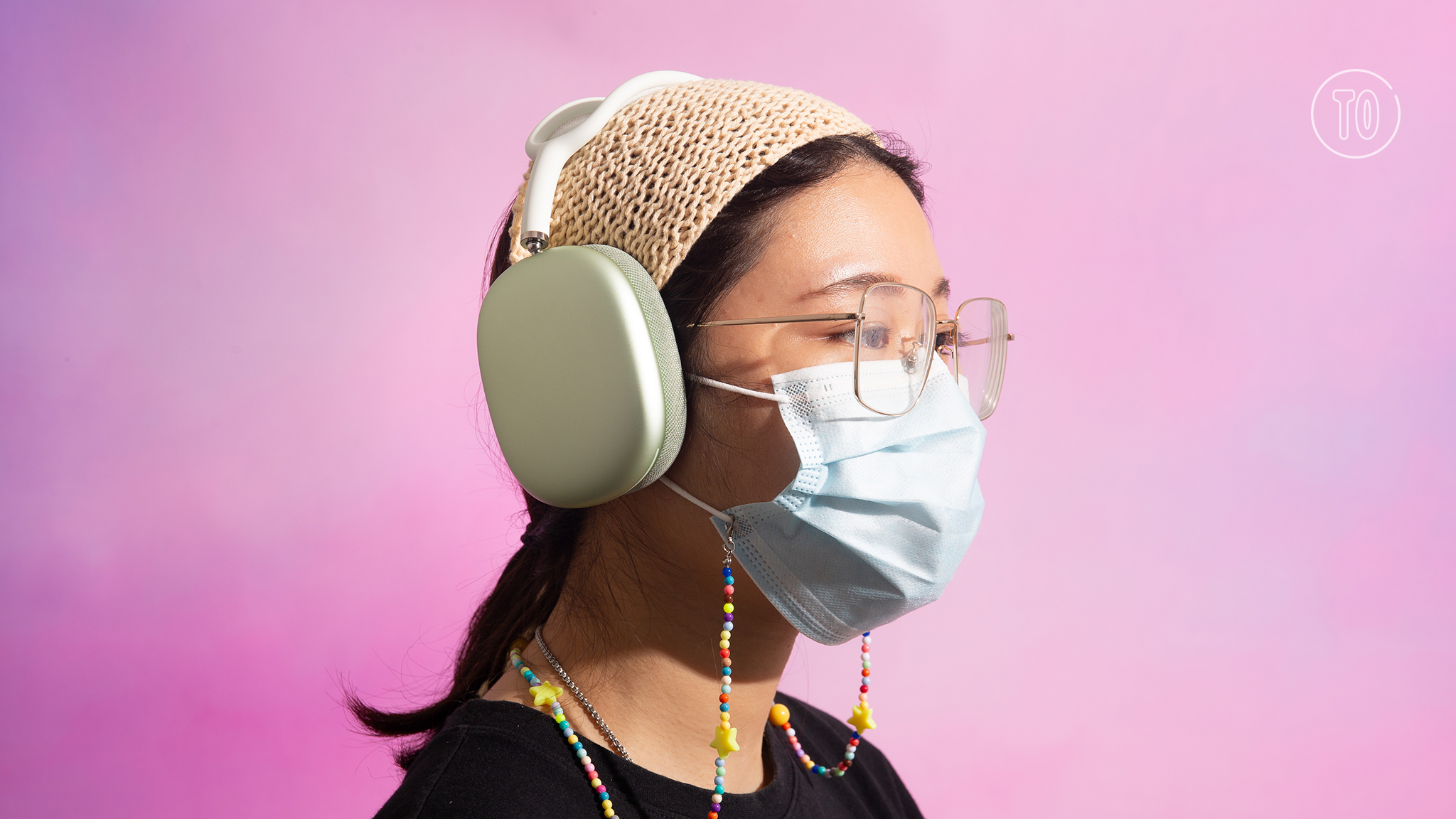 The Airpod Max doesn't have a 3.5mm headphone port, for starters. This means that unless you pay $35 for an Apple Lightning-to-3.5mm audio adapter, you can only use Bluetooth-enabled devices with the AirPods Max. You'll need a $9 dongle if your smartphone doesn't have a headphone port (like Apple's own iPhones). However, if you remain within the Bluetooth ecosystem, you should be OK.
In addition to excellent noise cancellation, these headphones have a transparency option that lets you hear what's going on around you. A digital crown is used to adjust volume and playback controls just at the right ear cup. The volume of my headphones would sometimes go up or down by mistake while adjusting the headphones. Playback is also paused when you remove the headphones, thanks to sensors on the earcups. Putting the headphones back in its case is all it takes to resume playing.
Read our review of the 3rd Generation Apple Airpod
The Max doesn't have an on/off switch. When you put them in the case, they go into a low-power mode and quickly come back up when you need them. I must confess that not turning on the headphones and attaching them to a device is a huge time-saver. Unfortunately, this is only useful if you use the case. If the headphones aren't in the case, they'll continue to drain the battery before going to sleep mode.
The quality and design of the Apple Airpod Max
As a premium headphone, the AirPods Max does a fantastic job. AirPods Max weighs 386 grams because of the aluminum used in its construction. The Max is much heavier compared to the other best noise-canceling headphones we've tried. The first thing my colleague noticed when she put them on was how hefty they were. But it doesn't mean they're not comfy. The design of the headband ensures that the weight is appropriately distributed.
The headband's soft cushioning and light fabric provides a beautiful sense of comfort. Honestly, the earcups are the best part of the headphones for me. It's easy to remove the cushioning and replace it if necessary. You may mix and match colors with this, but it will cost you.
The deep coverture of the earcup is crucial. There are several advantages to having an area around your ears, from distributing weight more evenly to attenuating noise. We were almost tempted to praise the deep ear cups, but larger ear cups imply that more people have a better experience.
The absence of foldable hinges is a noticeable drawback here. It's good to rotate the ear cups, but they don't fold as other headphones do. While the metal headband may be adjusted to fit, it cannot be folded to conserve space.
You may want to read our review of the Apple Airpod Pro
Does it have a waterproof feature?
Waterproofing is not an option for the AirPods Max – you can't even use them under running water, in the shower, or under the rain. In the event of a downpour, it's a good idea to remove and store them. While many earphones are built are like this, most audiophile headphones are for outdoor use. Considering that Apple designed the AirPods Max to be a portable device, the lack of water resistance is unfortunate.  You should try the Bose Noise Cancelling Headphones 700 that has an IPX4 water certification for far less than the price of an Airpod Max.
How good is the casing design of the Apple Airpod Max?
AirPods Max's case serves mainly as an off switch rather than a carrying case. Many headphone covers are designed to keep your expensive headphones safe from damage, but not this one. Metaphorically, it is built like a skin that protects the metal from tiny scratches but is ineffective in protecting the Airpods from anything more.
The metal headband will not bend or break; however, I can't say the same for the delicate fabric. Throwing the exposed headband into a bag can lead to a few scratches or perhaps a puncture if placed in the wrong place. There are so many minor mishaps that this case does not cover. There was nothing wrong with the original AirPods case, but this is a far cry from that.
Active Noise Cancellation
The AirPods Max's active noise cancellation is superb. To ensure that your headphones sound the best they can, you need to make sure that they block out as much noise as possible from the outside world.
When I'm sitting at work, I can hear nothing except the hiss of my heat coming on thanks to the AirPods Max. In the heat of the pandemic, working from home was cool with this Airpod. The music in the room is so quiet that I can hardly hear it. If you don't have an iOS device, you can't turn off the noise cancellation. Transparency and active noise cancellation are the default settings for the headphones' button. Apple's iOS platform allows this behavior to be altered; however, ANC or transparency are not options.
In the mid-to-high frequency range (anything to the right of 1000 Hz), most over-ear headphones perform a decent job of blocking noise, while exceptional noise-canceling headphones do the opposite. Headphones such as the Sony WH-1000XM4 and the Bose Noise Cancelling Headphones 700 routinely rank among the finest noise-canceling headphones.
Comparing the Noise Cancellation of the Airpod Max with that of Sony WH-1000XM4
Our test shows that the AirPods Max beats Sony's ANC, so noise cancellation is essential for a positive user experience. The Sony WH-1000XM4 noise reduction drops below the 150Hz level, while the AirPods Max remains stable, which means they are better at canceling low-frequency disturbances than the Sony headphones. However, the Max only excels by a thin margin.
Noise Cancellation of the AirPod Max vs. the Bose 700
There is a lot of overlap between the Bose Noise Cancelling Headphone 700 and the AirPods Max. We find that the Bose headphones perform well between 100Hz and 1000Hz range, reducing performances at sounds below the 100Hz mark. Subsequently, the AirPods Max will block more sound under this range which is something you must seriously consider if you need solid noise cancellation.
What is the transparency mode like?
The AirPods Max's transparency mode is the finest in the business. Outside noises are amplified in the usable voice band instead of canceled by this function. If you want to hear what's going on, instead of decreasing the level of your music, it enhances the microphones to do so. It's a great way to ensure you're not distracted from your favorite parts of a song just because you're trying to pay attention to your surroundings.
The Sound System
Sound quality is what draws many users to headphones.
The sound quality of the AirPods Max is excellent, with a clean and pleasant sound profile that will appeal to most listeners. The frequency response nearly matches what we desired during testing with a little more oomph in the ultra-low sub-bass range.
It's unlikely you'll be referring to this, but the loudness at the low end makes them more suitable for many types of music genres. At a moderate level, the sub-bass is excellent but isn't overpowering enough to obscure the music.
The midrange has a tiny drop, although voices are still very audible. Ady Suleiman's voice in the song Longing for Your Love stayed prominent even as the track's instrumentation continued. The mix of this particular music is a big part of this, but I didn't notice any issues when listening.
Even at the highest volume setting, the highs never got overbearing or uncomfortable for me. Because of that, I don't see many people objecting to how they sound. They don't have a lot of basses, but they have good bass. The mid-range is well-defined and easy to hear. The highs don't become too shrill or unpleasant even with EQ tools and settings.
Listening to Noiseless Audio
Apple built the AirPods Max without support for lossless audio – so you won't get the whole experience. You may get close to noiseless audio when using the lightning dongle and a cable to connect the headphones.
A digital signal is first transformed into an analog signal, which is then converted back to a digital signal within the headphones before sending it to the speakers. There is a chance that different transmission phases in the audio pipeline may contribute to distortion, noise, or loss of information, although this is likely to be insignificant.
You're not receiving lossless audio if you're listening through Bluetooth. Even though Apple's AAC implementation is outstanding, Bluetooth's constraints imply that you're listening to a smartly compressed signal. Consider lowering the quality settings if you're listening to your AirPods Max wirelessly, since features like spatial audio will function, but lossless isn't necessary.

You may want to check out our review of 3rd Generation Apple Airpods
Bluetooth Support for the Apple Airpod Max
Because of the H1 chip, the AirPods Max has a strong signal connection. I encountered a similar situation with the AirPods Pro, which uses the same chip. Both codecs from AAC and SBC are supported, much the same way as the smaller AirPods Pro. One of our team members encountered issues when listening to Spotify on an iPhone SE2. In other cases, minor problems were noticeable when pairing a podcast with headphones.
In layman's terms, Bluetooth codec is a way for two Bluetooth devices to communicate with one other. The SBC codec is used by all Bluetooth audio devices to transport sound. In addition to using AAC, the AirPods Max also employs this technology, which is better, but not all Android devices are compatible.
Avoid using aptX or LDAC codecs on an Android phone since they will not be of much use here. If you're using an iOS device, you don't have to worry about this since AAC is the default setting. Because of Bluetooth's restrictions, you won't be able to take full advantage of high-quality streaming services like Qobuz or Deezer while playing lossless files or utilizing such services.
Connecting the Max to an iOS Device
The AirPods Max can be connected to iOS devices in the same way as they can be connected to other H1-enabled devices. Wait for a card symbol to appear and hold the headphones close to the device you're connecting. After that, all you have to do is click "Connect" to get started. The AirPods Max now automatically connects to all your iCloud-connected devices to save time.
How to connect it to an Android device or PC
Yes, you can connect to an Android device. To do this, follow the steps outlined below:
Take the headphones out of the case, but don't put them on. If the headphones detect that you're wearing them, this process may not work.
The noise-canceling button on the right ear cup's top must be held down to activate it.
It's easy to tell when you're in pairing mode when the LED on the bottom of the right ear cup starts to flash white.
The AirPods Max can be paired by going to the device's Bluetooth settings and selecting the AirPods Max from the list. That's all there is to it.
On Android and Windows, Apple does not provide the same functionalities. For example, the ear cups' proximity sensors won't operate. Taking them off will not cause playing to be automatically paused or resumed. Furthermore, the virtual assistants on other devices will be inaccessible. If your smartphone does not support Siri, you will not be able to contact a voice assistant by holding down the digital crown for an extended period.
Multipoint Support via Bluetooth
Technically, the AirPods Max lacks Bluetooth multipoint; however, if you're using iOS devices, they still work in the same manner. Even though the AirPods Max may be connected to numerous devices at once, switching between them is a laborious process that must be done in the Bluetooth settings of each device. This won't be an issue if you're using Apple devices since the headphones will ideally switch to the device playing the music.
What about the quality of the mic?
Things start to get a little tangled here. Even while playback audio quality is generally excellent, we honestly can't say the same for the microphone's performance. Apple devices perform optimally with the AirPods Max, but it's challenging to forecast which gadgets will sound poor. To illustrate, we've selected a few of the more severe cases. It's important to note that the quality of your device's wireless transmission is virtually solely responsible for the loss of sound.
Unfortunately, poor microphone quality may be caused by using an incorrect device, but it isn't always obvious which devices are incompatible. Not because the AirPods Max itself is at fault, but rather because devices are known to have different settings for handling data from them. For good results, make use of top-of-the-line Android or Apple smartphones.
Spatial Audio System
Apple's surround sound technology is referred to as spatial audio (so this is nothing new). Ideally, multiple speakers are often placed around the listener in a surround sound system to create a sense of depth. In headphones, the same effect can be achieved via software processing. Surround sound is created by encoding audio as 3D objects and playing them back via speakers on the left and right sides of the speaker's head.
When you watch movies or programs that use it, you get a genuinely fascinating and engaging experience. When you turn your head, Apple makes it seem like the music originates from the exact location as before. When using the AirPods Pro or Max, you can sync your headphones with your iPhone or iPad through Bluetooth, which uses a gyroscope and accelerometer in the headphones to achieve this. This allows them to determine how your head is pointing and alter sound accordingly.
If you aren't running on iOS, you won't use surround sound. On behalf of Apple, we're sorry.
Spatial Audio and Apple TV
For the time being, Apple TV does not support spatial audio. Spatial Audio requires integrated gyroscopes and accelerometers to operate on the video's source device. The AirPods Max cannot synchronize sound directionality with the current Apple TV since it is a streaming box without accelerometers.
Wired Alternative
Like the Apple Beats Solo Pro, the AirPods Max doesn't have a 3.5mm headphone port, but you can connect them to a cable to listen to music. To do so, you will need to purchase an Apple Lightning to 3.5mm audio cable that costs $35. The audio from your iOS smartphone will require an additional adapter. This entails using an expensive chain of adaptors to convert your device's digital output to analog before being used. An all-digital wired connection cannot power the headphones. These headphones can be the most frustrating for audiophiles who care about preserving the quality of high-resolution audio playback.
Put another way; the provided cable won't work for audio passthrough if you happen to have a USB-C device like a newer PC or even an iPad Pro.
Battery System
According to Apple, the AirPods Max can be used for up to 20 hours of continuous play with active noise canceling enabled. Because you can't physically switch them off, these headphones do an excellent job of draining battery life. Because it's terrible for the future of technology, we'll always criticize a pair of headphones that waste power. Take care of the batteries in your AirPods Max because you can't easily replace them.
If you leave them out of the case, they'll wait a few hours before shutting off on their own. Considering the length of time required, I wouldn't be shocked if Apple released an update shortening this duration.
Charging the AirPods Max
The Lightning connector on the bottom of the AirPods Max must be plugged in to charge them. Neither the headphones nor the charging cable is included – which irritated me a lot. I currently have a USB-C cable and brick to charge my phone and other devices. However, I will need to purchase a Lightning cable to use this wire to charge my headphones. If the AirPods Max doesn't come with a charging wire, I'd rather have the USB-C port on the AirPods Max than the Lightning port. When the second-generation AirPods Max is released, we'd want to see wireless charging.
Is it Worth the Investment?
It's up to you whether you want to spend over $400 on a set of headphones. On the other hand, the AirPod Max is a stunning set of headphones on a technical level. Auto-pause and transparency mode, among other useful functions, is very appealing. It's also very well-built, has a long battery life, and sounds fantastic. However, it would be best if you were within the Apple ecosystem to reap its full benefits; otherwise, you won't get much out of it.
Despite its impressive noise-canceling abilities, the AirPods Max isn't the most user-friendly or comfortable headphones on the market. There is a problem with the "smart" casing and the absence of a headphone jack. If none of this worries you, the AirPods Max will be an excellent fit for you. Unless you know exactly what you're doing, they aren't for you. Yes, the AirPods Max are pricey, but they're also a fantastic set of headphones.
Closely Similar Alternatives
The pricey Airpod Max means that those on a budget can get equal value from other great-sounding headphones. We'd recommend Sony WH-1000XM4 or the Bose Noise Cancelling Headphones 700 as the closest alternatives without the high cost.
If you are looking for excellent noise-canceling headphones but don't have deep pockets for a Max, consider Bose QuietComfort 45. Although this headset has some flaws, it is still a great buy on a budget. It is a strong competitor of the Airpod Max and the Sony WH-1000XM4 in terms of noise attenuation. We also recommend Bose QuietComfort 35 II for a tight budget because it has an excellent ANC.